As a result of targeted violence, around the world, millions of Christians are now displaced or refugees. Countless numbers have been driven from the homes, lost their livelihoods and even their liberty and their lives because of their faith.
#RedWednesday is YOUR chance to say 'NO' to Christian persecution and 'NO' to religious persecution and to use YOUR voice to call for CHANGE.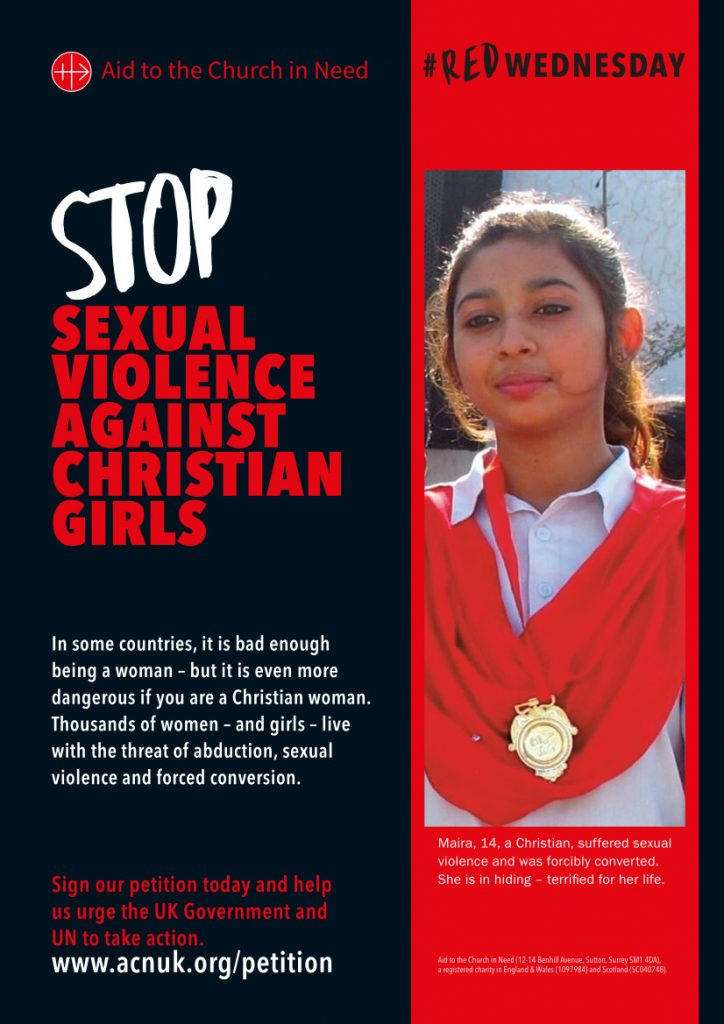 This year our special focus is on the kidnap, forced marriage and conversion, rape and sexual enslavement of Christian women and girls.
Will you ACT NOW to put an end to this suffering?
In some countries, it is bad enough being a woman – it is even more dangerous being a woman or girl who is a Christian or from another minority faith group.
Hear Her Cries Report investigates the global problem of women being targeted for sexual violence because of their religious beliefs
Please join us in person or online for our 2021 #RedWednesday Events (24th November)
Persecuted Christians around the world need our support and our action. For regular updates on our advocacy and work and to learn how you can help, sign up for our Enews here.
Join us in prayer for the #RedWednesday Novena from Monday 15th November. Our interactive resources are ideal for schools and parishes to get involved this year!
Find out more about fundraising for #RedWednesday