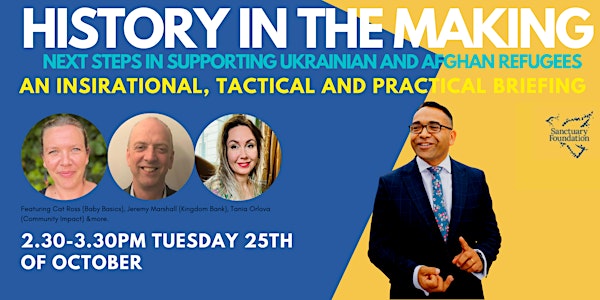 NEXT STEPS in supporting Ukrainian and Afghan Refugees- an event for church leaders
When and where
Date and time
Tue, 25 October 2022, 14:30 – 15:30 BST
Location
Online
About this event
NEXT STEPS in supporting Ukrainian and Afghan Refugees – an event for church leaders
You are warmly invited to a special online event on 25th of October at 2.30pm
We are in the middle of a historic response to refugees in the UK.
There are still huge opportunities and challenges facing our new friends from Ukraine and Afghanistan in the UK.
Dr Krish Kandiah will present a special church leader briefing regarding our ongoing response.
This will include:
The latest update from the government's plans for UkrainE
stories of best practice
the needs of children and young people
resources to support your work
refugees themselves presenting ways we can support them
I look forward to seeing you there
Krish
Dr Krish Kandiah
Dr Kandiah is a social entrepreneur with a vision to help solve some of society's seemingly intractable problems through building partnerships across civil society, faith communities, government and philanthropy.
He is led the Afghan Welcome and UKHK initiatives which have worked with government and civil society to welcome newcomers from Afghanistan and Hong Kong to the UK.
He is the is the director of Sanctuary Foundation a foster carer, a host in the Homes for Ukraine scheme and sits on the government's Core Delivery Group . He is also the Chair of the Adoption and Special Guardianship Leadership Board.
Tania Orlova
Tania recently arrived in the UK as a refugee from Ukraine. She is a mum with an 8 year old son and is a mental health specialist with expertise in stress reduction and resilience. Tania recently took on a roe as a Ukraine Community Support Project Manager in Community Impact Bucks. Tania brings huge amounts to this event offering both personal and professional experience.
Cat Ross
Cat is the CEO aid Baby Basics UK, the largest network of baby banks in the country. Cat is passionate about social justice especially for vulnerable families. With over a 25 year career in the charity sector both in the UK and internationally Cat is skilled in developing and scaling projects which make a tangible difference to the lives of people who need support.
Jeremy Marshall
Jeremy Marshall lives in Kent with his wife, they have three adult children. He grew up Bible smuggling every summer behind the Iron Curtain with his father, who was an evangelical free pastor.
His last job was CEO of the UK's oldest private bank, C Hoare and Co. He and some friends recently acquired Kingdom Bank and plan to develop it to help churches grow.
For the last seven years he has been on a mission to use as much of the NHS as possible (so far oncology, opthamology and cardiology) – five years ago he was given 18 months to live with incurable cancer.
He is currently going through chemotherapy and has found cancer has made him an "accidental evangelist". He regularly speaks to churches, businesses, schools and and students and has written an evangelistic book Beyond the Big C.