Join us for an evening of music performed by a variety of live musicians hosted by Bringing Freedom. To help raise funds for a charity we support, which is preventing human traffickers from abusing the Ukrainian refugees. Your £8 ticket will contribute towards the work of the charity but also includes complimentary drinks and nibbles for the evening! You will hear from our lovely founder Naomi about her heart to put an end to modern slavery and also have the opportunity to enter into our raffle and win an exciting prize. We look forward to welcoming you for what will be an evening of fun in aid of a good cause!
The event will be hosted at City Life Church in Truro, unfortunately there is no parking available at the venue (limited spaces are reserved for musicians and event staff members). Street parking in the bays on Chapel Hill is free and unlimited by time after 6pm. There are also nearby car parks in Truro and the church is a short walk from the train station.
PLEASE NOTE: *Children over the age of 12 are welcome to attend this event, however, since we are a charity raising awareness of modern slavery, which includes the slavery of children, this topic may be too distressing for younger children to attend.
If you have any allergies or dietary requirements we should be aware of please leave a note with your ticket or contact us at bringingfreedom@hotmail.co.uk
In line with government guidelines, masks are not required, however, if you are more comfortable wearing one you are more than welcome to.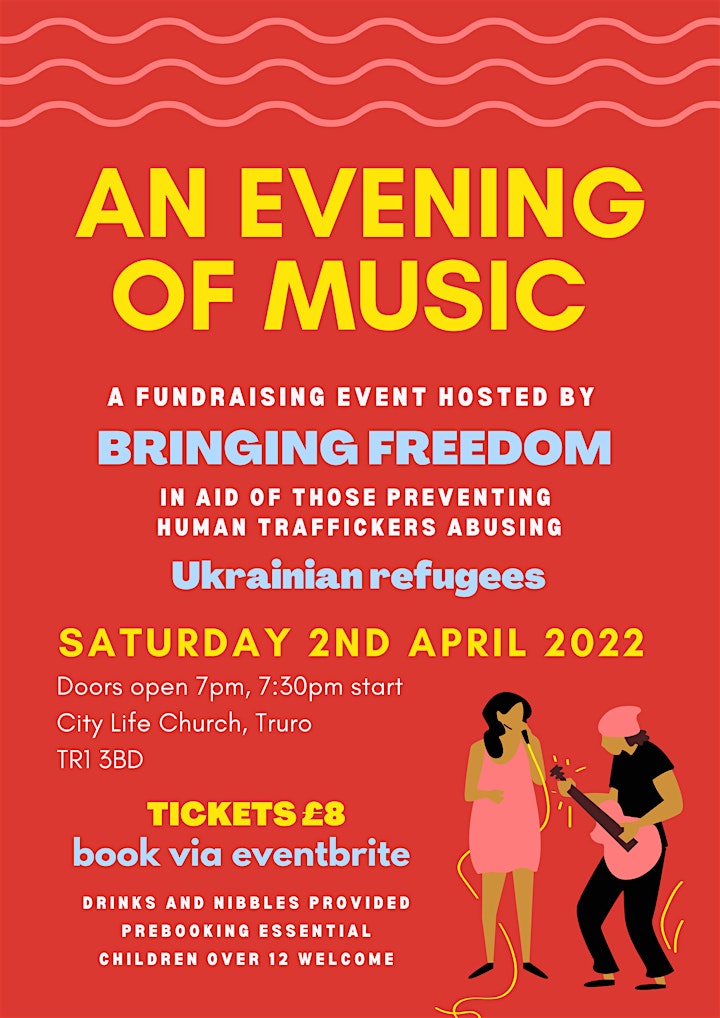 Tags
Read more