By Kelly Rowe
The Bishop of St Germans has added his voice to an appeal from world faith leaders ahead of COP26 urging delegates to 'choose life'.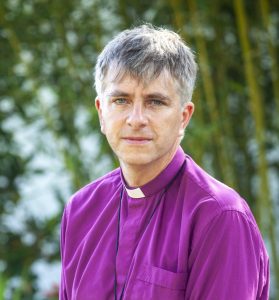 Bishop Hugh, who leads on Creation Care in the Diocese of Truro, said: "The climate emergency is not just a physical problem but also a moral challenge.
"This powerful document reminds us that the choices and decisions we make are guided by principle, morality and faith. The planet's eco-system is at a tipping point, and we all need to make fundamental moral decisions about what matters most. Failing to make decisions that prioritise the earth, biodiversity and the most vulnerable communities is a moral choice in itself – and one that will have terrible consequences.
"As followers of Jesus Christ and supporters of the World Faith leaders appeal, we call on all people and on our leaders preparing for COP26, to face up to the moral challenge before us, and to choose life."
The joint appeal, which was issued this week encourages the world's political leaders and their populations to take 'urgent, radical and responsible action to rethink the world we want for ourselves and for our children'.
"We plead with the international community, gathered at COP26, to take speedy, responsible and shared action to safeguard, restore and heal our wounded humanity and the home entrusted to our stewardship.
"We appeal to everyone on this planet to join us, knowing well that what we can achieve depends not only on opportunities and resources, but also on hope, courage, solidarity and good will."
The leaders are calling for common but differentiated climate action at all levels, from individual behavioural changes to high-level political decision-making processes.
Governments cannot handle such ambitious change alone
"Governments cannot handle such ambitious change alone. We need all of society – the family, religious institutions, schools and universities, our businesses and financial systems – to engage in a transparent and collaborative process, ensuring that all voices are valued and all people represented in decision-making, including those most impacted. Raising public awareness is indispensable to the change of course that is needed."
While calling on governments and international organizations to be ambitious, the leaders have also recognized the major role their faiths play and have committed to:
Supporting actions to reduce carbon emissions, achieve carbon neutrality, promote disaster risk reduction, improve waste management, conserve water and energy, develop renewable energy, provide green open spaces, conserve coastal areas, prevent deforestation and restore forests. Many of these actions require partnership with farming and fishery communities, especially small-scale and family farmers, whom we will support.
Working to make bold plans to achieve full sustainability in our buildings, land, vehicles and other properties, joining the global race to save our planet.
Encouraging our communities to embrace simple and sustainable lifestyles at home, so as to reduce our collective carbon footprint.
Striving to align our financial investments with environmentally and socially responsible standards, ensuring greater accountability and transparency as the tendency to move away from investments in fossil fuels and toward investments in renewable energy and restorative agriculture is becoming ever more widespread. We will encourage public and private sector stakeholders to do the same.
Evaluating all the goods we purchase and the services we hire with the same ethical lens, avoiding two different moral standards being applied to the business sector and to the rest of social life. For instance, we will raise awareness in our faith communities about the need to examine our banking, insurance and investment choices, to correct them in line with both the values we proclaim here.
Future generations will never forgive us
"We are currently at a moment of opportunity and truth. We pray that our human family may unite to save our common home before it is too late. Future generations will never forgive us if we squander this precious opportunity. We have inherited a garden: we must not leave a desert to our children."
You can read the full Appeal here.
Read more