December 12, 2022
The Bishop of Truro, the Rt Revd Philip Mounstephen, stood in a mock prison cell outside Truro Cathedral on Saturday in support of the local Amnesty International group's Christmas Human Rights campaign.
December 10 is celebrated worldwide as the anniversary for the founding of the Universal Declaration of Human Rights (UDHR) by the General Assembly of the United Nations in 1948.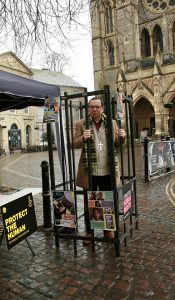 To commemorate the event, the local Truro and District Amnesty International group had a stall at High Cross outside Truro Cathedral.
Bishop Philip agreed to be caged to represent the human rights cases Amnesty are supporting – examples of the countless instances where governments have failed to fulfil their obligations to implement the UDHR.
Bishop Philip also took part in the group's annual Christmas Write for Rights campaign. As part of the national Amnesty campaign, millions of people will be writing solidarity messages to ten selected cases that reflect a range of human rights abuses suffered globally.
Write for Rights shows that when we act together, we can change lives. More than 4.6 million messages ofsupport and letters of appeal were sent during the campaign in 2021. They had a huge impact on people, communities and organisations who had suffered abuses and were demanding justice.
In 2019-20 Bishop Philip was Chair of the Independent Review for the Foreign Secretary of Foreign and Commonwealth Office support for Persecuted Christians and has a deep concern for the plight of the millions of people around the world who are persecuted because of their religion or beliefs, or becausethey profess no faith. His report showed very starkly that the world is a very long way from delivering the promise of Article 18 of the UDHR that was intended to guarantee freedom of religion. He also visited Lebanon recently and saw at first hand the pressure that some Christians face in some communities there.