By Richard Best, Truro Diocese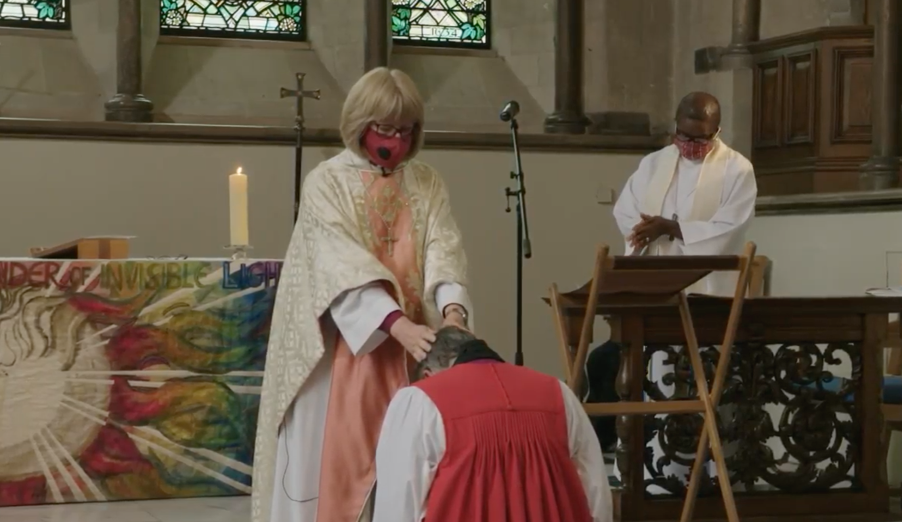 The Archbishop of Canterbury, the Most Revd Justin Welby, heard the oaths of the new Bishop of St Germans as he was consecrated in a joyful service at Lambeth Palace Chapel this morning.
The Rt Revd Hugh Nelson was consecrated by three bishops laying their hands on him – the Bishop of London, the Rt Revd Dame Sarah Mullally, who led the service; the Bishop of Dover, the Rt Revd Rose Hudson-Wilkin; and the Bishop of Guildford, the Rt Revd Andrew Watson. In normal times this would be done by many more bishops at a bigger service, usually in a cathedral.
Archbishop Justin also preached at the service and presented Hugh with his symbols of office – his ring, cross and staff. In his sermon, Archbishop Justin spoke of the dangers of the abandonment of humility for grandeur, and also urged the new bishops to lead a non-anxious church.
Because of changes to the date of his consecration stemming from Covid-19 restrictions, Bishop Hugh officially started in his new role on July 1. He is greatly looking forward to beginning his role more fully, though, and to meeting people throughout the diocese.
There are two opportunities for people to 'meet' Bishop Hugh in the next week. On Sunday (19.7.20) morning, he will be making a guest appearance at the all-age worship live event hosted by Bishop Philip and Ruth Mounstephen, which you can see on the Diocese of Truro Facebook page starting at 9.30am, and later as a recording.
And on Sunday afternoon at 4.00pm, Bishop Hugh will be live on the diocesan Facebook page again, this time in conversation with Richard Best from the communications team. He'll be there to answer questions and would love to hear from as many people across the diocese as possible. If you have any questions you would like Richard to put to Bishop Hugh, please email them in advance to him richard.best@truro.anglican.org.
There will be many opportunities for people to meet Bishop Hugh over the coming weeks and months, and it is hoped to hold a service of welcome in Truro Cathedral once health guidance permits.