Pray4G7
Psalm 93
The Lord reigns, he is robed in majesty; the Lord robed in majesty and armed with strength; indeed, the world is established, firm and secure. Your throne was established long ago; you are from all eternity. The seas have lifted up, Lord, the seas have lifted up their voice; the seas have lifted up their pounding waves. Mightier than the thunder of the great waters, mightier than the breakers of the sea – the Lord on high is mighty. Your statutes, Lord, stand firm; holiness adorns your house for endless days.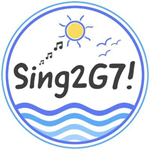 Please thank God and pray for…
Sing2G7 – watch the recording 'Gee Seven' – the Truro Cathedral Event on 12th June – Living for Tomorrow.
Open Letter & Video to G7 Leaders – the concern shown by many across society, but especially the young, to re-think our systems and lifestyles for the good of all.
The Prayer Relay G7 to COP26 – the chance to focus attention particularly on poverty, the environment, climate change and the opportunities also of COP26.
The Creation Care & Wave of Hope Display at St Anta Church, Carbis Bay – uniting in prayer and Christians collaborating across the County of Cornwall, and the world.
The proposals that have already been sent to government involving Christian input into the Summit or those on the periphery will be accepted and have an impact for the Kingdom.
The involvement of Cornish MPs, particularly Derek Thomas, the local MP for St Ives.
The Police, Council Staff, Falmouth Maritime Museum Staff and all dealing with G7 Accommodation and the Hospitality Industry – all the visitors and reporters planning to gather in Cornwall and the opportunities that might create for Christian outreach.
Those who are planning protests, that their interventions may be constructive and non-violent.
The press and media – that reports will be accurate, fair, and uplifting.
Those whose lives will be disrupted by security arrangements, traffic, and presence of many visitors.
The G7 Leaders and Delegates themselves, that they may be aware of the social and environmental challenges we face in the county and worldwide: the host Boris Johnson Prime Minister of the UK; Justin Trudeau Prime Minister Canada; Emmanuel Macron President of France; Angela Merkel Chancellor of Germany; Mario Draghi Prime Minister of Italy; Yoshihide Suga Prime Minister of Japan; Joe Biden President of America; Ursula von der Leyon; President of the European Commission; Charles Michel European Council President; Scott Morrison Prime Minister of Australia; Chung Sye-kyun Prime Minister of South Korea; Narendra Modi Prime Minister of India; and Cyril Ramaphosa President of South Africa.
Post expires on June 13th, 2021