As world leaders arrive in Cornwall , ahead of the G7 Summit, local Quakers walked from Falmouth to the venue in Carbis Bay, holding the leaders in their thoughts.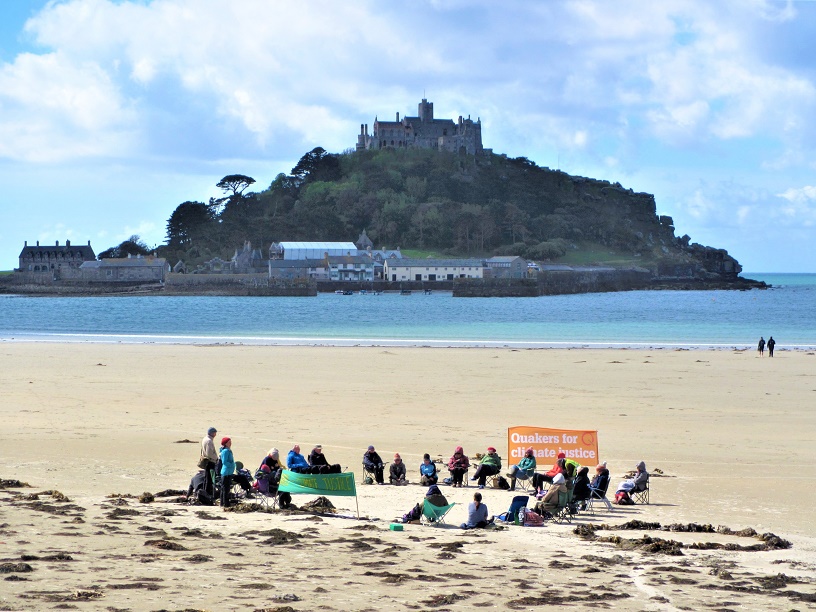 Meanwhile,Quakers in Britain joined dozens of other representatives of faith bodies to call on the UK government to use its Presidency of the G7 and of UN climate talks (COP26) to drive real progress on addressing the climate crisis.
The open letter to the Prime Minister, states that "As people of faith, we cannot stand by while world leaders continue to delay action. These delays, on phasing out support for fossil fuels and on addressing climate impacts, are destroying lives. From the Pacific islands to sub-Saharan Africa, from Bangladesh to Brazil, the climate crisis is a present reality for the world's poorest people. They have little power to tackle this catastrophe which they did not cause. We ask you, who do have power, to use the UK's G7 and COP Presidency in their interests."
The letter follows the publication last week of the International Energy Agency (IEA)'s first ever full scenario report aligned with limiting global warming to 1.5°C. The report states that in order to remain within the 1.5°C target in the Paris Agreement, all new fossil fuel development must cease this year.
We believe that every human life is sacred, and that we have a duty to speak up for those whose voices go unheard.

– Faith groups' letter to the Prime Minister
The interfaith letter asks the government to end the use of UK public money to subsidise fossil fuels and to conduct a peer review of its financial support for fossil fuels. It also calls for the government to support the creation of an international loss and damage financing facility and to explore sources of financing to fund it. Signatories urge the government to use its Presidency of the G7 Summit and UN climate talks to ensure both issues are discussed at the G7 and COP26.
"As Quakers we believe we need to act in ways that promote fairness and the right sharing of world resources," said Paul Parker, Recording Clerk for Quakers in Britain. "This is especially true in Britain, a country that has historically and currently taken more than its fair share. The UK must urgently end its reliance on fossil fuels and ensure loss and damage for the most vulnerable countries is at the heart of both international talks."
Shanon Shah, Director of Faith for the Climate, said: "People of faith in Britain are acutely aware of the losses and damages suffered by our co-religionists and their communities around the world due to the climate crisis. This sense of interconnectedness plays a big part in our pursuit of climate justice as a moral and spiritual concern. Together, within and across our different faith traditions, we are asking the UK government to undertake its urgent moral duty to address climate change nationally and globally."
The full text of the letter is here
Post expires on August 10th, 2021