October 10, 2022
Lebanon: So why am I going to Lebanon – and with whom?
The second is easier to answer: I'm travelling with David Fieldsend and Rachael Varney both of whom worked with me on the Independent Review of how the Foreign Office had responded to the persecution of Christians. That gives you one reason why we're going. And we're also joined by Revd Etienne van Blerk, Priest in Charge of Carbis Bay and Lelant, Arabic speaker and former missionary in Lebanon.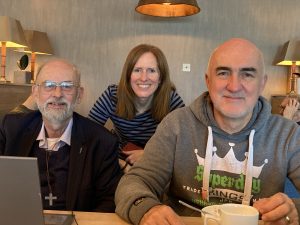 As to the first question, I've been keen for years to develop a link between Cornwall and Lebanon, because ours is a very ancient partnership that has shaped the world.
There is good evidence from marine archaeology in the eastern Mediterranean of Phoenician traders from Tyre and Sidon trading tin with Cornwall between 1400 and 1600 BC – when the rest of the UK was still a swamp! Without Cornish tin and the Cornish tin trade there would, quite simply, have been no Bronze age.
In fact I have a theory that the earliest reference to Cornwall and Lebanon in the Bible comes very early indeed: in Genesis 4:22 we read that 'Zillah bore Tubal Cain who made all kinds of bronze and iron tools' – but you can't make bronze without tin, and if Tubal Cain was making things with tin, then where did the tin come from and who brought it to the Middle East? Well I think we know.
I've been so impressed by what I've seen of the work of the Churches in Lebanon
But it's not just about an ancient connection: on I've been so impressed by what I've seen of the work of the Churches in Lebanon in the face of very many challenges and I'm convinced they have much to teach us in Cornwall as we face our own challenges.
The second reason is to do with my own ongoing involvement with the issue of Freedom of Religion or Belief (FoRB) that goes back nearly four years to the Review mentioned above which has itself led to significant changes in government policy and forms part of a growing global movement around this issue.
One of the most helpful conversations in undertaking the Review was with the Lebanese ambassador to London who pointed out that plural states such as Lebanon that respect FoRB are, amongst other things, more secure trading partners and pose less of a security threat to the rest of the world. I'm sure he's right.
Denial of FoRB is a growing global problem
Denial of FoRB is a growing global problem – but as I say there is a growing global movement that seeks to address it. And Lebanon has a critical role to play. It faces many challenges but its studied commitment to religious plurality and diversity is unique in the region and must be upheld and safeguarded.
It's not for me to tell people in Lebanon what to do – but I think they have a critical role to play, regionally and globally in developing a truly intentional diversity in a world increasingly marked by division. In such a divided world Lebanon could have a truly prophetic role to play in championing FoRB at every level of society. I'm looking forward to discussing that with the many leaders we'll meet on our trip.